Zhangguang 101G Hair Tonic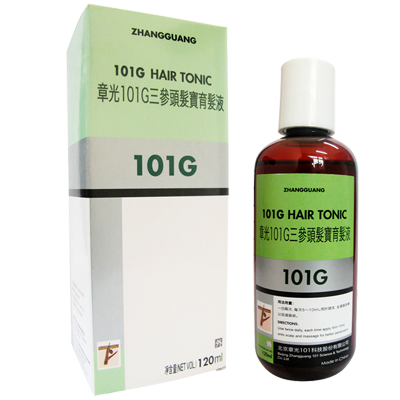 Zhangguang 101G Hair Tonic selects the most precious Ginseng ingredients in Chinese herbal medicines. They uplift your 'Yang' energy.
The Zhangguang 101G Hair Tonic not only can reduce the secretion of grease, hair grease and scurf, but also improve the physiological state of hair follicles and enhance the master cells in the hair follicles to regain their hair growing function, preventing the shedding of hairs and accelerating the regrowth of hairs.
Main Ingredients:
01. Radix Ginseng
03. Radix Sophorae Flavescentis
04. Flos Carthami
05. Radix Saposhnikoviae
06. Radix Polygoni Multiflori
07. Flos Chrysanthemi Indici
08. Radix Gentianae
09. Ethyl Alcohol
10. Aqua
Usage:
For external use only. 3ml - 8ml once, twice a day. Rub scalp gently for better absorption.
Avoid contact with eyes.
Individual allergic to alcohol please consult with your family doctor.
Size:
One Bottle: 4 floz (120 ml).
International Package: Labels and manuals are both in English & Chinese.
The Certificate Number of Authenticity is the label, which helps you identify genuine 101 Group products, seals the package and is ready to be verified online.
Quality Standards:
China Cosmetic Industrial National Quality Certificate: 08-XK-0058
China Department of Health Quality Certified #: XK16-108 0815
Invented by Dr. Zhao Zhang Guang, President & Founder of Zhangguang 101 Hair Group
Availability: Immediately, ship within 1 business day
Price: USD$ 79 (2 Bottles - 1 month supply)