Zhangguang 101B Formula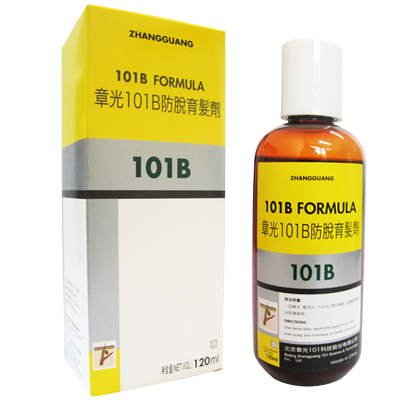 In the early stage of Seborrheic Trichomadesis (excessive oily type of hair loss) , hyper-secretion of sebum will cause greasy scalp, hyperkeratosis of hair follicle mouth will cause excessive scurf, itchy scalp and dry hairs.
Zhangguang 101B Formula restrains the secretion of sebaceous gland rapidly and effectively.
Suitable for oily hair, all type of alopecia, seborrheic dermatitis, male and female pattern hair loss.
Using Zhangguang 101B Formula can increase the blood flow of scalp; restrain the secretion of sebaceous gland rapidly and effectively in particular; remove the grease of scalp; keep the vessels of sebaceous gland unobstructed: improve physiological function of hair follicles; prevent trichomadesis and accelerate the growth of hairs.
Main Herbal Ingredients:
01. Rhizoma seu Radix Notopterygii
02. Radix Paeoniae Alba
03. Radix Sophorae Flavescentis
04. Rhizoma Gastrodiae
06. Rhizoma Drynariae
07. Ethyl Alcohol
08. Aqua
Usage:
For external use only.
Twice daily, apply 3ml - 8ml each time onto scalp and massage for better penetration.
Avoid contact with eyes. Individual allergic to alcohol please consult with your family doctor. Store in a cool place without direct sunlights.
Size:
One Bottle: 4 floz (120 ml).
International Package: Labels and manuals are both in English & Chinese
The Certificate Number of Authenticity is in the label, which helps you identify genuine 101 Group products, seals the package and is ready to be verified online.
Quality Standards:
China Cosmetic Industrial National Quality Certificate: 01-XK-0101
China Department of Health Quality Certified #: XK16-108 5119
Invented by Dr. Zhao Zhang Guang, President & Founder of Zhuangguang 101 Hair Group.
Availability: Immediately, ship within 1 business day
Price: USD$ 79 (2 Bottles - 1 month supply)